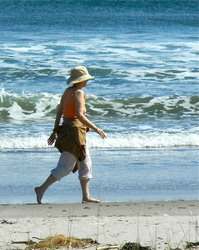 GAIL SALZMAN . Artist's Statement
A fascination with color and movement is at the core of my painting practice. Moving paint around is pure pleasure; it's a process that links immediate sensation with memory.
Thematically my work explores water as a metaphor for the principle of change that underlies all life. Words descriptive of water often echo those depicting emotional states – calm, turbulent, reflective, transparent, overflowing and frozen. I find the parallel language compelling.
The materials and methods I choose reflect these qualities. Layers of translucent paint evoke shifting perspectives. Using rolling, scraping, and pressure techniques, I exploit the unexpected as drips, new textures and color variations enrich my intuitive process.
Influenced by a strong early training in drawing and composition, I'm hard-wired to search for visual order. The real excitement comes when I loosen my grip, follow the immediate experience of paint and embrace mystery.
photo by Karen Becker